What Does it Take to be a Naturopathic Doctor?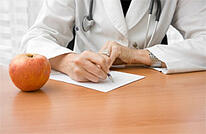 Are you curious about the differences in the training of naturopathic doctors (ND) and allopathic doctors (MD)? You may be surprised to find that the initial training that an ND and MD go through are the same. Similar to MD students, students pursuing a career as a naturopathic doctor generally complete an undergraduate degree in one of the basic sciences; most will be on a pre-med track.
Following their undergraduate education, ND training in the US requires four years of medical school at a college that is accredited by the US Department of Education. There they study the same basic sciences as an MD or DO. Additionally, they are taught the most recent theory and practice in disease origins, diagnosis, prevention, and conventional and natural approaches to treatment.
Unlike MD and DO students, ND students have extensive training in clinical nutrition, botanical medicine, homeopathic medicine, and acupuncture. Hour for hour, students pursuing an ND degree put in the same amount of time as MDs and ODs. In addition, some ND programs require 1-2 hours more of training.
During the first two years of medical school, ND students study the core curriculum of basic sciences. During the last two years (or more) of medical school, the students practice as interns under the supervision of a licensed professional. Some ND students complete a one or two year residency similar to MD students to gain more experience.
One of the primary differences in the training of an MD and ND is that an ND begins clinical practice during years 3-4 of medical school. MD students generally do more observation during their internships and assume hands-on patient care while in residency. Currently, residencies are not required for NDs, and are not funded.
Residency is the period of time when an MD gains in-depth knowledge in their area of specialty through hands-on training and supervised experience. Because NDs are trained to be primary care physicians, their clinical training begins during their medical school training and residency is not required.
Upon completion of their medical training, naturopathic doctors must successfully pass the licensing exam to become a primary care physician. Additionally, those who pursue full licensure must meet the requirements of the state medical board where they plan to practice.
Naturopathic Doctors as Primary Care Physicians
NDs are trained to prevent disease and treat the underlying causes of illness. As such, NDs do not train in a medical specialty, as most MDs do. NDs learn about the symptoms and diagnosis of diseases like cancer, but refer patients who require treatment for those diseases to doctors who specialize in that area of medicine.
Holistic Care
The American Association of Naturopatic Physicians (AANP) describes their work as follows: Naturopathic physicians work with their patients to prevent and treat acute and chronic illness and disease, restore health and establish optimal fitness by supporting the person's inherent self-healing process, the vis medicatrix naturae. This is accomplished through:
Prevention:

Prevention of disease is emphasized through public health measures and hygiene as well as the encouragement and guidance of persons to adopt lifestyles which are conducive to optimal health.

Diagnosis:

Diagnosis and evaluation of the individual's state of health are accomplished by integrated modern and traditional, clinical and laboratory diagnostic methods.

Treatment and Care:

Therapeutic methods and substances are used which work in harmony with the person's inherent self–healing process, the vis medicatrix naturae, including: dietetics and nutritional substances, botanical medicine, psychotherapy, naturopathic physical medicine including naturopathic manipulative therapy, minor surgery, prescription medications, naturopathic obstetrics (natural childbirth), homeopathy, and acupuncture.
Source: American Association of Naturopathic Physicians. House of Delegates Position Paper – Definition of Naturopathic Medicine. Amended 2011. (http://naturopathic.org/content.asp?contentid=59)