Are There Any Side Effects of Acupuncture?
Acupuncture is a form of alternative medicine that has its roots in China. A treatment involves accessing and stimulation of different points on the body for the purpose of healing and improving health. An acupuncturist applies the stimulus through the insertion of fine needles into a particular area of the body. In the United States, the practice of acupuncture in Phoenix is fast rising as well as in other cities. Many disease conditions have been shown to be responsive to acupuncture treatment. Before starting many people want to know if there are side effects of acupuncture. While side effects are not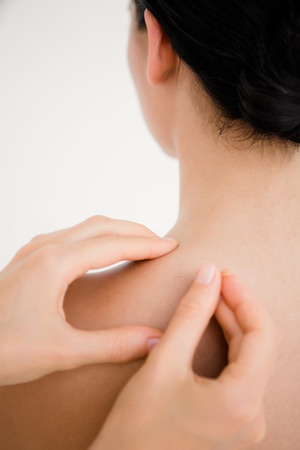 very common with acupuncture, in this article we reviewed research to find the most common so you know what to expect.
The Side Effects of
Acupuncture?
As you will see from the research below the incidence of side effects are quite small and when they do occur they are quite minimal. That said, the most common side effects from acupuncture are slight bleeding, slight pain from the needle sites, and aggravation of symptoms for which the patient sought acupuncture treatment. The most severe side effect that can occur from acupuncture is a pneumothorax. This is extremely rare and no life threatening event have ever been reported following acupuncture treatment.

A multicenter survey carried out by Ernst et al., looked at a total of 3,535 acupuncture treatments given to 409 patients. They recorded adverse effects in 11.4% of the treatments. The most common side effects include: Bleeding – 2.9%, Hematoma (bleeding and formation of blood clot within body tissues) – 2%, Dizziness – 1%, others – fainting, nausea, abnormal sensation, pain and transient aphasia (temporary loss of speech that lasted for 1 hour).(1)

In another prospective survey conducted by White et al., showed the incidence of significant adverse events/side effects occurred in 14 times per 10,000 treatments (0.14%). was recorded in a total of 32,000 acupuncture treatment. However, most of these resolved within one week. Minor adverse events were higher, 671 per 10,000 treatments (i.e. 6.71%). These were reported as similar side effects and include: bleeding from needle site (3.1%), pain at the needle sites (1.1%), and aggravation of the initial symptoms (0.96%).(2)

A similar study including 34,000 acupuncture treatments did not report any serious adverse event. In this study, serious adverse event was defined as those that require hospital admission, results to permanent disability or leads to death. Minor reactions were reported in 15% of the acupuncture treatment with aggravation of symptoms been the most common. Others include bruise, pain and bleeding at the needle sites. (3)
It should be noted that most of the patients with aggravation of their symptoms went on to then experienced improvement after few days. As a Phoenix acupuncture specialist, we see this as of part of the healing process. The acupuncture stimulation can trigger a strong reaction and sometimes worsening of the symptoms or aggravation occurs before improvement. When it does it occur it is typically mild.

In a review of nine different surveys conducted by Ernst and White, the side effects of acupuncture were not uniform among the nine surveys. Pain at the needle site was the most common side effect (1-45%). Others were tiredness (2-41%) and bleeding from the needle site (0.03% to 38%). Fainting was an uncommon adverse effect (<0.3%). (4)
Phoenix Acupuncturist Minimize Side Effects

Many factors have been identified as potential risks for developing side effects of acupuncture. Liver disease with derangement in clotting factors increases the risk of bleeding after acupuncture. Another factor that may increase the risk of bleeding is a genetic defect called hemophilia in which there is deficiency of some of the clotting factors (factors VIII or IX). Hypoglycemia (low blood sugar) at the time of treatment may increase the risk of feeling dizzy or fainting after treatment. (5)
In conclusion, acupuncture is an alternative medicine with numerous ways of improving your health. As shown by the above research it is very safe with very little side effect to be concerned with especially when compared to pharmaceutical medications. The risk of these minor side effects depends on some of the patients factors list above but also the acupuncturist giving the acupuncture. In our Phoenix acupuncture clinic we do not see these side effect very often. In almost all cases the benefits of acupuncture largely out weight the risks.

Reference List
1. Ernst G, Strzyz H, Hagmeister H. Incidence of adverse effects during acupuncture therapy—a multicentre survey. Complementary Therapies in Medicine. 2003;11(2):93-97. doi:10.1016/s0965-2299(03)00004-9. Available at: https://www.ncbi.nlm.nih.gov/pubmed/12801494
2. White A, Hayhoe S, Hart A, Ernst E. Adverse events following acupuncture: prospective survey of 32 000 consultations with doctors and physiotherapists. BMJ. 2001;323(7311):485-486. doi:10.1136/bmj.323.7311.485. Available at: https://www.ncbi.nlm.nih.gov/pmc/articles/PMC48133/
3. MacPherson H, Thomas K, Walters S, Fitter M. The York acupuncture safety study: prospective survey of 34 000 treatments by traditional acupuncturists. BMJ. 2001;323(7311):486-487. doi:10.1136/bmj.323.7311.486. Available at https://www.ncbi.nlm.nih.gov/pmc/articles/PMC48134/
4. Ernst E, White A. Prospective studies of the safety of acupuncture: a systematic review. The American Journal of Medicine. 2001;110(6):481-485. doi:10.1016/s0002-9343(01)00651-9. Available at https://www.ncbi.nlm.nih.gov/pubmed/11331060
5. Chung A, Bui L, Mills E. Adverse effects of acupuncture. Which are clinically significant? Canadian Family Physician. 2003;49:985-989. Available at https://www.ncbi.nlm.nih.gov/pmc/articles/PMC2214278/